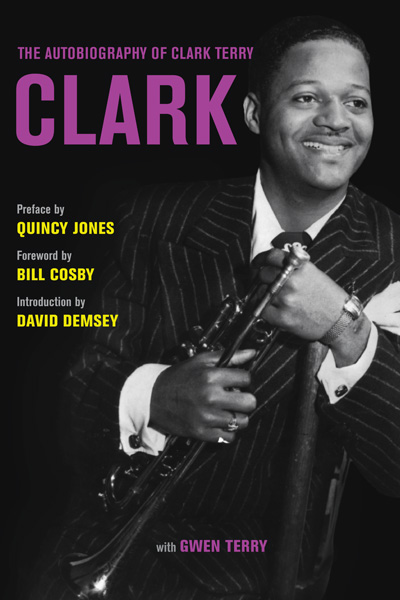 My book, Clark – The Autobiography of Clark Terry is finally done! It took me more than twenty years to get it finished, and all I can say is that I'm glad that I don't have to start trying to remember all of those facts and stories and names today. Man! Lots of people helped me and I've thanked all of them, starting with the Old Man Upstairs. I laid some heavy stuff down in those pages, some personal scenes, and things that I hadn't really talked about before. I wrote stories about recording sessions, incredible musicians that I've been blessed to work with, tips about my techniques, and how I overcame those left hooks that life threw at me. The ones that got me are in there, too.
The University of California Press is my publisher, and they have been just fantastic. Great people to work with, you know. Lots of hard work, and I hope you'll enjoy reading my story. The publication date is October 1st of this year – just a few months away! Until then, my friends at UC Press have set things up so that you can order now and get one of the first editions. They're giving a hip discount for early orders, so you can save some bread.
I asked Gwen to give you the information about the ways and means that it all works, so here are the links:
Amazon even included some of the nice things that were said about me at the bottom of the page. I really appreciate those statements.
And its also available for pre-Order at Barnes and Noble
As we get hipped to more places where you can order early, I'll make sure to lay it all out to you. Meanwhile, I'll keep on keepin' on through these "Golden Years" (which I call these "Olden Years"), and I'm sending my love to everyone out there. You always mean a lot to me!
Clark