"Chocolate never tasted so good!" That's what Clark said when Dr. Simmie Armstrong gave him some Jello pudding after "upgrading" his diet to soft foods. As God continues to answer your many prayers and well wishes, Clark is comfortably relocated in the rehabilitation wing, and looking forward to coming home in a few weeks.
When I asked him how he felt about his progress, he said "Getting well is good, but getting 'weller' is better." Clark has a sense of humor that never quits – even from his hospital bed.
Friends and family have come to cheer him on, and when I walked into his room recently with another surprise visitor, I said, "Terri Lyne Carrington is here to see you?" He said, "Terri Lyne! Where is she?" Smiles were on everyone's face when she walked over to his bed and gave him a big hug, and when she made a speakerphone call to her father, Sonny Carrington, who said, "I love you, Clark. You're one of the best friends I've ever had."
Like so many young talented musicians, Clark encouraged Terri Lyne, too. We all reminisced about the first time that he heard her play the drums back in 1976, and then invited her parents to bring her to the Wichita Jazz Festival to sit in with his "East Coast West Coast Jazz Giants." She said that she was just ten years old at the time, and it was the realization of a dream when Clark gave the okay for Louie Bellson to get up and let her play his double-bass drum set with Eddie "Lockjaw" Davis, Al Cohn, George Duvivier, Jimmy Rowles, Garnet Brown and Clark.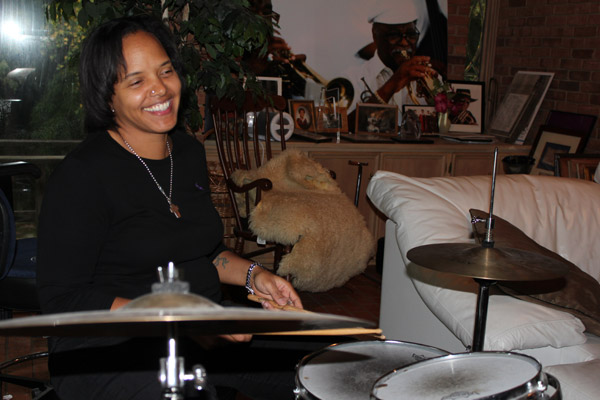 After we left the hospital, Terri Lyne played a drum set in our home. When I told her that Louie Bellson had given us the set, she said, "That's wild!" I asked her to share one of the greatest lessons that she'd learned from Clark. She said, "I was late for one of his gigs and when I got there, Clark was playing the drums. So being on time was never a problem after that." We enjoyed her visit, and we love her new CD, "The Mosaic Project."
With God's grace, your encouraging prayers, and visits from friends and family, Clark is getting stronger each day. It will be so nice to bring him home, again.
Blessings,
Gwen