Clark's doctor has written orders for him to be transferred to the rehabilitation wing! That's great news because it's the first step toward getting him ready to come home for which we are so thankful to God.
He was in great spirits tonight – the best that we've seen – and more talkative than ever. He sang his tune "Phalanges" to me, which was the first of his compositions to be recorded a long, long time ago when he was in Charlie Barnet's band.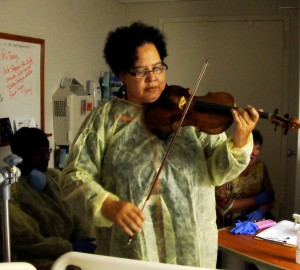 His cousin, Lesa Terry, was visiting him along with his niece, Patsy Clark, who still calls him "Uncle John." If you've read his book, you know why his family called him "John." Lois Gilbert from Jazzcorner.com also came to see him, and he was so happy to see them all. The nurse on duty, Letti, said, "You've got a lot of pretty ladies here with you. No wonder you're doing better!"
Lesa played some beautiful tunes on her violin for him, and when she played one of his tunes, "Digits," she purposely played some wrong notes just to see if he'd catch the errors. He said, "No, no! It goes like this…" And he sang it to her. He might not always remember my birthday, but he definitely remembers his music!
We talked about some passages from his autobiography, and he wanted me give you a link to a short clip that we did about it. We hope you'll enjoy it.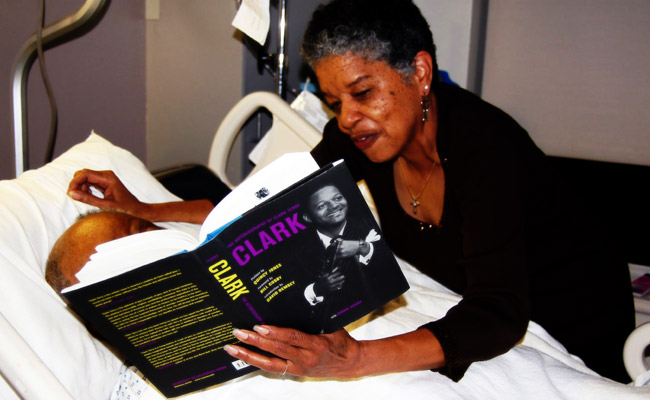 Please keep your powerful prayers coming, because they mean more than you know. He said to tell you, "I'm hanging in there, and I love you all."
Blessings,
Gwen