We all know how much Clark treasures his students. He wrote in his book (page 2), "… helping young musicians to make their dreams come true. That became my supreme joy and my greatest aspiration."
So, you can imagine how happy he was when I told him that one of his youngest students, trumpeter Josh Shpak, won a national audition in the YoungArts competition. He was selected for the jazz performance category of seventeen and eighteen year-olds from a pool of more than seven thousand applicants in various genres. Sponsored by the National Foundation for Advancement in the Arts (NFAA) in their thirty-first year, Josh (currently a freshman at Berklee) will attend master classes and perform with a small ensemble at a gala in Miami this January, hosted by Robert Redford.
Clark said, "I'm so proud of Josh! I love all of my students, and I'm grateful to have participated in their development." Last month, Josh visited Clark at the hospital and played some stunning solos on his trumpet. He said, "I cannot even describe the importance of what Clark has shown me, things that have made him such an amazing and beautiful musician. My only hope is that I will be able to take even a fraction of what I have learned and apply it to my playing."
Adding to the many things that have kept Clark's spirit lifted, members of his beloved quintet flew in recently to share their love with him. Drummer Sylvia Cuenca, pianist Helen Sung, and bassist Marcus McLaurine had been trying since this past summer to coordinate their schedules so that they could arrive at the same time. Clark had the biggest smile on his face and he kept saying, "I just can't believe you're all here!"
It was quite an emotional reunion, complete with an incredible solo that Marcus played at Clark's bedside, accompanied by Sylvia and Helen with hand-held percussion instruments.
Marcus said, "I consider Clark to be my musical father, and I will always be grateful for everything that he has given me." Sylvia added, "I'm so glad that we could work things out to see Cee Tee. I've learned so much from him, and he means a whole lot to me." Helen replied, "I can't even begin to explain how special Clark is to me. All I can say is that we love him very, very much, and we're all praying that he gets well."
During their visit, the three quintet members gave a swinging, surprise performance for a celebration of Clark's autobiography at Garbo Hearne's Fine Art Gallery in Little Rock, Arkansas.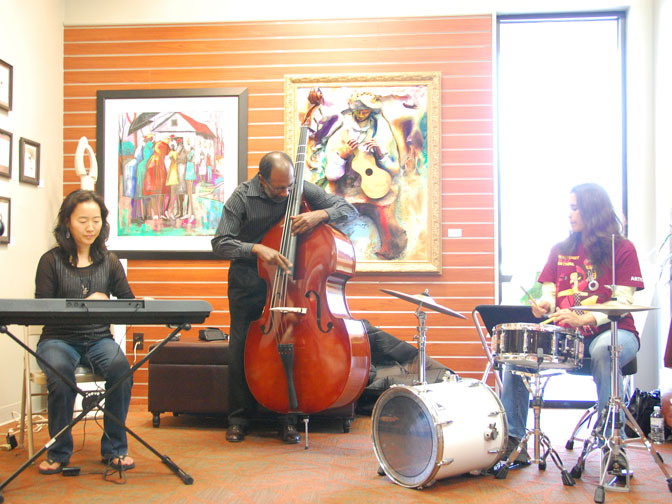 Everyone wished that Clark could have been there, but we honored his request to represent him. There was standing room only at the event, including a guest appearance by Michael Chukes, whose magical art and sculpture exhibit had been unveiled at the gallery recently. During an emotional statement, he said, "Clark has always been a huge inspiration for me. When I work, I listen to his music."
Just days before the arrival of his quintet members, Clark was serenaded by his cousin, Zela Terry, with an awesome solo. She plays principal cello in France for the Nice Symphony Orchestra. Her sister Teri Terry-Renty came from California to sing some soul-stirring spirituals for him, and her son Elisha accompanied them with brushes on a snare drum. Clark said, "This is such a gas! All I can say is, thank God."
When they asked how he's been feeling, he answered, "I'm doing all that I can do to hold on, and it sure helps to have all of this amazing music and love."
We thank all of you who have posted your heartfelt well wishes and prayers on his website, and we appreciate the writers who have published such positive book reviews for his autobiography. His personal message is, "I'm very grateful to everyone who did those nice things for me."
He hasn't been able to continue his physical therapy as we all had hoped, but he has gained a few pounds since being upgraded to solid foods, including some of his favorites like garlic chicken legs. Dr. Simmie Armstrong said, "Although Clark has overcome many serious health challenges, new obstacles have prevented his release from the hospital."
As we approach his 91st birthday, please continue your uplifting prayers and messages.
Blessings and love to all,
Gwen