"Clark said to tell you that he wants to eat some of your cooking. He wants some of those garlic chicken legs." That was the message that I received from one of his health aides, Marilyn Turner, recently. Clark has moved on from chocolate pudding and other soft foods to a more substantial diet. Of course, he's going to get his heart's desire since we all love him.
His niece Deidra Ellington drove from Georgia with her family, including Jody Marsh, an eleven-year-old guitarist – Daivaugn, and his twin brother – Daigon who took trumpet lessons from Clark three years ago. Their adorable three-year-old sister Peyton had his total attention as I walked into his room with a surprise visitor.
When I said, "Dianne Reeves is here to see you," he said, "You're kidding!" She walked up to his bed, took his hand and said, "I came here to tell you that there are thousands of people praying for you to get well because we love you and we need you. I sincerely appreciate all that you've done for me, and in everything I do, you are there."
She told him how much she loved his book and then she sang But Beautiful. Be sure to click on the song title to hear Clark interacting and singing with Dianne on an audio clip that was recorded at the hospital. It was absolutely incredible!
A few minutes later, she recalled an event where she learned one of the greatest lessons from him. "I was performing at one of your gigs in Wichita, Kansas, and I was totally improvising, singing a lot of variations of the song. You turned to me and said, 'Learn the melody!' I took your advice to heart, and I learned a whole lot of melodies. Those words of wisdom helped my career tremendously."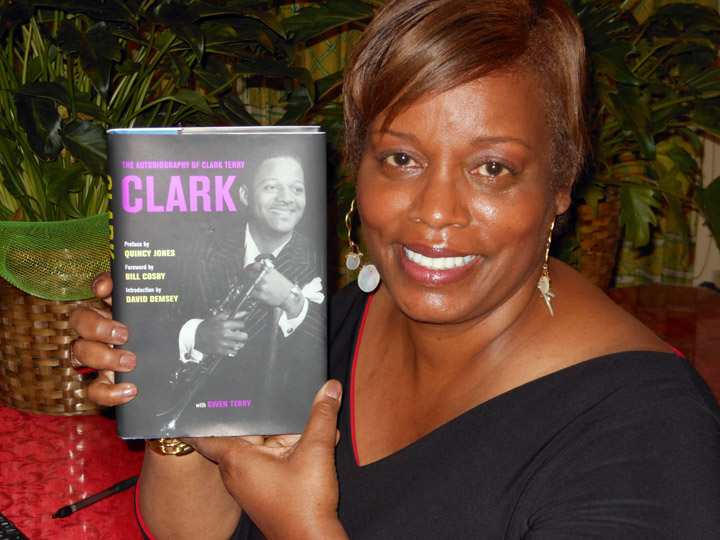 At home, we continued talking about Clark's autobiography and she said, "His book is a masterpiece; the writing, the stories, the history. I couldn't put it down! I learned so much about our music and his incredible career. And not just that, his book has so many valuable lessons about life."
Her CD, When You Know, is totally wonderful, and I can't wait to share it for him!
Clark and I thank each of you for sending and bringing so much love to him from all over the world. With the good reports that we're getting from his doctors and your continued prayers, hopefully, he'll be able to eat some garlic chicken legs at home soon.
Blessings,
Gwen