Due to a very bad cold, I haven't been able to visit Clark at the hospital. We miss seeing each other very much, as you can imagine, but we're happy to communicate by phone. Even though it's hard for Clark to hear me on the small handset in his room, we still talk several times a day. His health aides, our family and friends report back to me daily about what's going on, so I can still keep a close eye on everything.
With a team of dedicated doctors, God's grace, and your encouragement, Clark is fighting his way through every health challenge that has been thrown in his path. It is truly amazing to witness his incredible courage. During the weekdays, his physical therapists have been assisting him with exercise routines in his hospital room. His leg is healing, although it's a slower process than usual due to the complications of diabetes. In spite of a series of recent obstacles, Clark quoted Admiral David Farragut, "'Damn the torpedoes, full speed ahead!'"
Some of his beloved students came to celebrate his 91st birthday – Justin Kauflin, Alan Hicks, Quincy Cavers, and Cameron "Cinnamon" MacManus. They brought some of their friends with them – Ryan Hicks, Adam Hart, and Rory Anderson. Justin's seeing-eye-dog Candy was right there in the mix, too, along with Clark's health aides, nurses, doctors, and our family. Justin (piano), Alan (drums), Cinnamon (trombone) and Quincy (saxophone) serenaded Clark with some of his original tunes and other favorites. He made sure that the tempos were right by tapping his fingers on the bed rails. It was a great time for all with a birthday cake, flowers, balloons and the music that we all love – jazz.
Clark was so happy when I read your hundreds of heartfelt prayers and loving messages that were posted on his site. Please keep them coming because he so enjoys hearing from you.
There were many wonderful activities around the world which added to the birthday smiles on his face – radio tributes; concerts dedicated to him; news articles in magazines, newspapers and blogs; original compositions created for him; and more book reviews with favorable comments about his new autobiography. Tuba player Marc Lindy organized the unofficial re-naming of a main thoroughfare in Vancouver, Canada. Alan Matheson joined Marc as friends and fellow musicians gathered around "Clark Terry Drive" which was complete with a flugel horn on the sign! (Special thanks to W.D. Worden for use of his photo)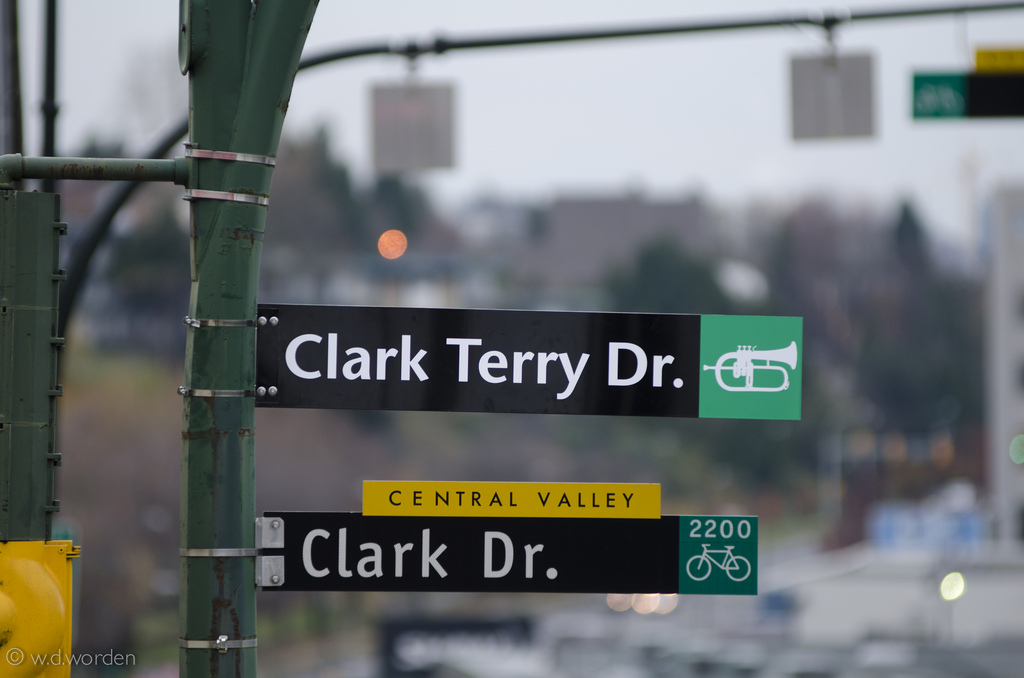 When I asked Clark how he felt about all of the birthday accolades and prayers, he said, "Blessed. I feel very, very blessed. I appreciate all of those beautiful vibes, and I love everybody. Every one of them.
"I'm thanking Big Prez for letting me see another birthday and Christmas. I'm praying hard and doing everything I can do to be able to celebrate the New Year."
We hope that this holiday season continues to be filled with love and peace for everyone. It is our prayer that you are enjoying these special days with your family and friends, and that you are feeling our spirit with you as you gather together. We can certainly feel your presence with all of the love that you're sending our way. Thank you so much!
Blessings and Happy New Year,
Gwen