He said, "Man! I'm so glad that Big Prez gave me a green light, and I'll do my best to make it down the next road."
On Thursday afternoon, I met with Dr. Jacqueline Frigon who is the head doctor for the physical rehabilitation wing of the hospital where Clark has been for the past few months. When she informed me about her recommendation for his release, I closed my eyes and said a prayer of thanks to God! I thanked Him for all of the doctors, nurses, physical therapists, and personal health aides – and especially for Dr. Simmie Armstrong (Clark's Primary Care Physician) who stuck with us all the way and never gave up.
Your love helped us to get to this point! The visits, cards, phone calls, tributes, news articles, and messages posted on Clark's site and on your Facebook pages have been so encouraging. We are deeply grateful, and we thank God for the miracle of Clark being able to continue his recuperation at home.
We'll do our very best to make him comfortable and assist with his exercise routines. Professional services such as Home Care Nurses will visit three times a week to help with additional medical necessities between doctor's appointments.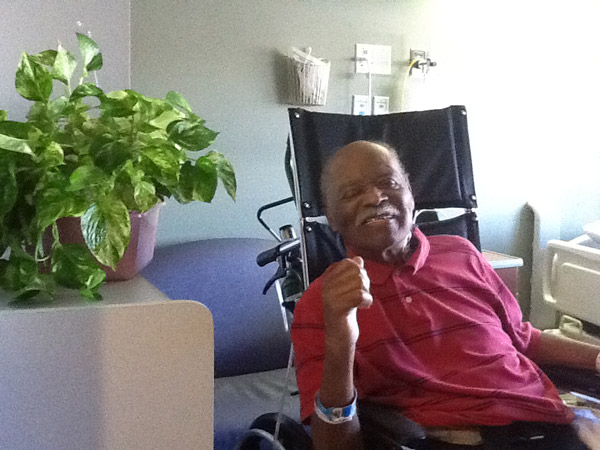 He was also excited when I told him that Celine Peterson is doing a web radio tribute to him this coming Sunday, January 15th at 10:00 p.m. EST on JAZZ.FM91. As many of you know, she is the daughter of Oscar and Kelly Peterson, and she's also Clark's goddaughter. Please click here to read all about it in JazzTimes magazine.
Please click here to listen. We wish you the best, Celine!
Last weekend, I attended the Jazz Education Network (JEN) Conference in Louisville, Kentucky. It was phenomenal!
There were lots of musicians in attendance, more than one hundred vendor tables and exhibits, plenty of workshops, panel discussions, presentations, and some really great jazz. Friends that I hadn't seen in a long time were there to personally deliver their heartfelt sentiments for Clark.
Hundreds of people stopped by our "Clark Terry Autobiography" table, and our friends, Sherry Witt and Dawn DeBlaze, were there to help. Everyone wrote well wishes for Clark on a huge canvas that was eight feet by four feet, which I plan to make into an incredible wall banner. We photographed friends and fans holding Clark's 2010 Lifetime Achievement Grammy Award, and we sold dozens of his autobiography which had his authentic "thumbprint" autograph. Our first sale was to saxophonist, Bobby Watson.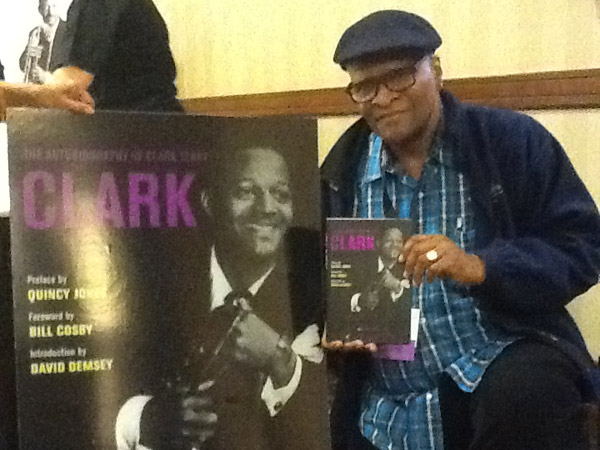 David Baker honored us by autographing his wonderful book – "David Baker: A Legacy in Music." Afterwards, he went to a really nice celebration of his 80th birthday. We wish you many happy returns, David! I can't wait to share your book with Clark.
On Saturday, just before the exhibits were closed, we had a drawing for a free copy of Clark's book. It began with a blues serenade acapella by Chad Carter – "Hello Little Girl," which we all enjoyed tremendously! Chad's mentor is Ernie Andrews who is a true master, as we all know.
Our volunteer for the drawing was Monika Herzig, the author/pianist who worked with David on his book. As people gathered around, we all watched while she closed her eyes and rummaged through the dozens of entries. Finally, she drew a winner – Steve Wiest – Director of the North Texas One O'Clock Lab Band, and a multiple Grammy-nominated composer and trombonist. Someone located him a few minutes later and when he claimed his prize book, he said, "I've never won anything in my life!" Congratulations, Steve.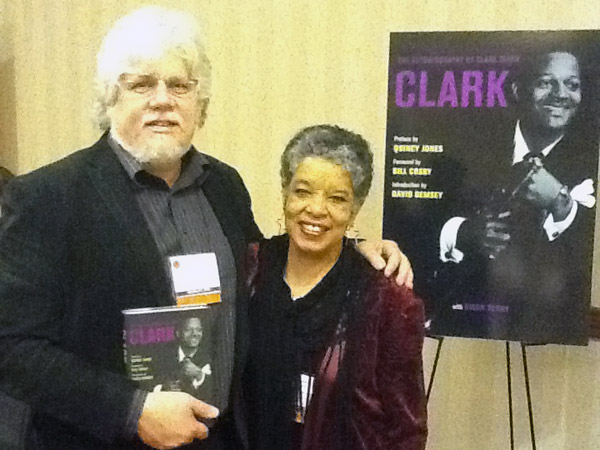 Although most of my time was spent at our table, I did have a chance to catch a few performances, including one with Laila Smith (vocalist) and Chase Morrin (pianist). Those two young musicians are quite talented, and I hope that Clark will get to hear them.
On the last night of the conference, I attended a tribute to the great Benny Carter on his centennial anniversary. Mel Martin and the Benny Carter Tribute Band performed, featuring Bobby Watson, Steve Kirby, Jeff Mars and Don Friedman. They were absolutely awesome! Don has played with Clark for more than fifty years.
When I returned home, Clark and I had a great time as I filled him in on the details of the JEN Conference. He said, "I hope to be there next year."
Please pray that he'll keep on keepin' on and attend the 2013 JEN Conference!
Blessings and love,
Gwen