We hope that you enjoyed bringing in 2012! Our celebration included, saying prayers, reminiscing and discussing plans for the future, and listening to some great music. I told Clark some of the latest jokes that I'd heard, and we talked with friends on the phone. Most of all, he enjoyed hearing me read the latest messages from all of you. He loves what you've written so much, until I had to re-read some of the older messages. When my throat became dry, I told him that I needed to get some water but he said, "Read the next one!"
I asked him what his New Year's resolution was and he said, "To keep on keepin' on."  As he continues to improve, he's not missing a beat. He's been giving lessons to some of his students in person and over the phone, and encouraging friends with health challenges. His longtime friend Red Holloway suffered a stroke a few months ago, but was recently released from a hospital in California. Clark said, "Hang on in there, Brother Red. That's what we've got to do."
We hope you'll join us in praying for Red Holloway and others who are sick. Your prayers are miraculous! They have certainly helped Clark. Please keep them coming.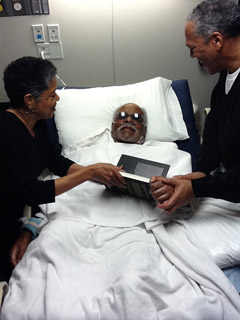 When Clark's autobiography was released by the University of California Press, I told him that we'd received many requests for him to autograph his new book. He has arthritis in his hands and has difficulty in holding a pen. He said, "Well, I can't write, but I've got thumbs." So, we've had a lot of fun helping him to place his thumbprint on the inside page. On this photo that I took in his hospital room a few weeks ago, our friend George Pettigrew was there to help with the "thumbprint project."
On January 6, 2012, a few hundred copies of his "thumbprinted" autobiography will be available at the Jazz Education Network convention in Louisville, Kentucky. Since Clark isn't able to attend, he asked that I go and represent him. So, I'll be there along with our friends, Dawn DeBlaze and Sherry Witt. Please go to the home page of Clark's site and click on "The Book" to read the wonderful book reviews that he has received. And if you happen to attend the JEN convention, please stop by our table which is #2 (close the Visitor Bureau table) to say hello and sign the "surprise get well book" for Clark.
We hope that 2012 will bring you prosperity and joy, and realization of your dreams. Of course, it is our dream that Clark will be able to come home soon. If you have a few moments, please continue to post your messages in his Guest Book. Your comments make him so happy, and they keep him feeling "connected" to you. Your words are truly appreciated, and I look forward to reading them to him.
Blessings and hugs,
Gwen