Clark's doctors are pleased that the amputation site on his right leg is healing very well. We wish that the news about his left leg was as positive. We were all hoping that various therapies would have solved the diabetes-related circulatory deficiencies in his left leg. No one wanted Clark to suffer another amputation, but this condition has become critical and his need for pain medication has escalated.
After we prayed about it, Clark said that he wanted to talk with his doctors one more time. Dr. Simmie Armstrong and Dr. Heather LeBlanc explained the pros and cons, and that waiting any longer would be life-threatening. Later, when we discussed their recommendations, Clark said, "Well, let's do what we've got to do and get it done!"
His high spirits were amazing when he was admitted into the hospital on Wednesday, February 15th, with surgery planned for next week. Honestly, it is phenomenal to witness his awesome passion for overcoming health challenges. He said, "It's not easy. Believe me! But quitting is not an option. Never has been and never will be. I know that Big Prez (his nickname for God) is with me. Been with me all of my life."
One of his students, Quincy Cavers, said, "Whenever I get bogged down, I think about Cee Tee and how he handles things, then I feel like I can make it. He's such an inspiration."
While I was with him last night in his room, one of his nurses told him that she had seen his "Mumbles" video on his website. When she asked him if he still sings "Mumbles," he said, "Once a mumbler, always a mumbler."
Last week, Kevin Padian and John "Faithful" Simon came to visit Clark at home. They were both raving about Clark's book. Kevin is a curator and a paleontology professor at the University of California. He is also one of their editorial board members who voted for the publication of Clark's book. He said, "Clark has always been my favorite jazz trumpeter of all time."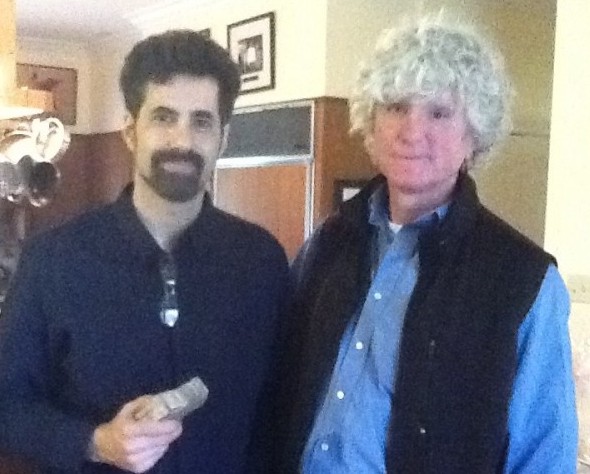 John (pictured on the left above) is mentioned several times in Clark's book for standing beside him through many health challenges. "I had to come and spend some time with him. He means a lot to me." John and Quincy moved the keyboard from the living room so that they could play some music for Clark in our bedroom. He was smiling a lot, and singing along with the tunes they played – John on flute and keyboard, and Quincy on sax. John's website can be viewed at www.johndavidsimon.com. They had a great time for hours!
When we learned that Terri Lyne Carrington had won a Grammy in the "Best Jazz Vocal Album" category for her latest CD – "The Mosaic Project," Clark called her and said, "I'm so proud of you! I love you and God bless you!" She's mentioned in his book as a "power hitter." Their relationship goes back to when she was a little girl, and it's always a joy to see the big smiles on his face when he talks with her. For information about her award-winning recording, please visit www.terrilynecarrington.com.
We hope that you all had a great Valentine's Day. We celebrated our 20th wedding anniversary at home on the 14th, and it was filled with love, complete with gorgeous flowers, loving phone calls and thoughtful gifts from friends and family. I bought us a four-foot teddy bear, and he got a b-i-g kick out of it. He was sooooo happy as I read him your wonderful cards and website posts. When I finished, he said, "I'm very thankful to Big Prez for sending me so much love!"
We plan to have our anniversary photo done at a later time when he's feeling better. In the meantime, please join me in staying positive as we continue our prayers for his healing.
Blessings and love,
Gwen