Clark is home! His primary care physician, Dr. Simmie Armstrong, arranged for him to have professional physical therapy for five days a week here at home, along with homecare visits from nurses three times a week. The amputation site on his left leg is healing, and the right one is completely well. He's experiencing some pain, but other than that, he said, "It gets pretty tough sometimes, but I'm hanging on in there. And I'm thanking Big Prez (his nickname for God) for every day."
He was talking on the phone with one of his friends who expressed how sorry he was that Clark had gone through so much – losing his legs and all. Clark responded, "Don't worry, just keep pulling for me."
On one of his particularly challenging days, I asked what would help him to feel better. He said, "Love. All the love from you and everybody. It makes me feel like you all still need me."
You can see how much you mean to him. Each message that you post, and all of your prayers, phone calls, cards, and visits have helped to give him the courage to "keep on keepin' on." We appreciate you all so very much, and we hope that you'll stay in touch.
His friend Bob Montgomery came from Denver to visit. Between doses of Clark's pain medication, they talked about Clark's book, reminisced about their road trips when Bob played trumpet in Clark's Big Bad Band, and the years that Bob organized, supervised and participated in the Clark Terry Jazz Camps that were held in Oklahoma and Kansas.
Bob said, "I remember those long bus rides when I was in his band. I sat across the aisle from him, and when I'd doze off, he'd wake me up so we could talk. I loved traveling with him. He told some great stories, and a lot of them are in his autobiography. It's a great book!"
I left them alone for a while, and when I went back to see if they needed anything, Bob and Clark were all smiles. Bob said, "He sang all of the words to 'Squeeze Me,' and he was buzzing a little (a lip-vibration exercise for strengthening chops). He went on to say, "Clark still has a perfect embouchure, and his mind is as sharp as ever." For more information about Bob, please visit: www.dmamusic.org/bobmontgomery
Here's a photo (left to right) of Bob, Clark and Quincy Cavers who is one of Clark's students, a travel assistant, and one of his home health aides.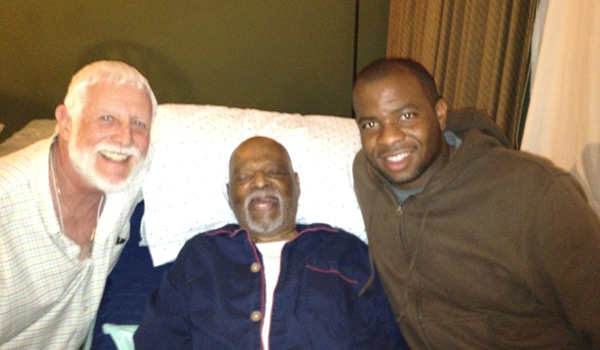 When Clark is able, he's looking forward to teaching his students in person and via Skype. Last September, prior to the barrage of challenges with his legs, he enjoyed giving his first Skype lesson to a student in Australia. He said, "That computer is something else, man! I was here and he was there. A real talented kid. Plays trumpet. He learned how to 'doodle-tongue' in thirty minutes. It was great!"
Clark is getting stronger daily, and we are forever grateful for your love. Please keep him in your prayers.
Blessings,
Gwen