The Autobiography of Clark Terry
Compelling from cover to cover, this is the story of one of the most recorded and beloved jazz trumpeters of all time. With unsparing honesty and a superb eye for detail, Clark Terry, born in 1920, takes us from his impoverished childhood in St. Louis, Missouri, where jazz could be heard everywhere, to the smoke-filled small clubs and carnivals across the Jim Crow South where he got his start, and on to worldwide acclaim. Terry takes us behind the scenes of jazz history as he introduces scores of legendary greats–Ella Fitzgerald, Oscar Peterson, Dizzy Gillespie, Dinah Washington, Doc Severinsen, Ray Charles, Thelonious Monk, Billie Holiday, Sarah Vaughan, Coleman Hawkins, Zoot Sims, and Dianne Reeves, among many others. Terry also reveals much about his own personal life, his experiences with racism, how he helped break the color barrier in 1960 when he joined the Tonight Show band on NBC, and why–at ninety years old–his students from around the world still call and visit him for lessons.
"Clark: The Autobiography of Clark Terry" is now also available as an eBook for Kindle, Nook and other 'ePub'-compatible e-readers.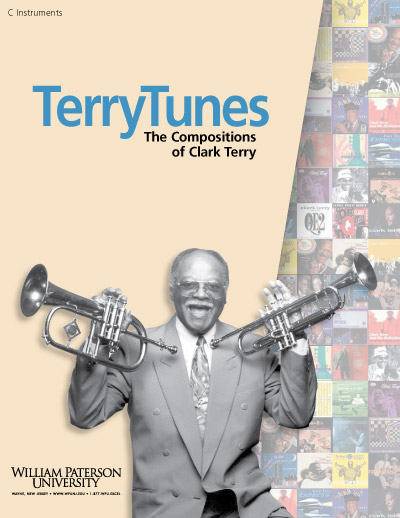 Buy Now
(U.S. Shipping Only)
Terry Tunes
TerryTunes is an exciting re-editing of the legendary collection of fifty-seven Clark Terry's compositions that was originally published in the 1970s, now long out of print. This new version corrects any musical errors, with invaluable added material from Clark about his revolutionary doodle-tonguing method. Doodle-tonguing syllables have also been added to 21 of the tunes; it's impossible not to swing when singing the melodies with these syllables! There is also a new, enhanced biography, a message from Clark, two pages of doodle-tonguing information and training, plus a selected discography including nine recordings containing one or more of the TerryTunes songs and other important Clark Terry recordings. This book is not just for trumpeters, but for any student or professional musician wanting to discover Clark's vast repertoire, his inventive compositional ideas, and his insights on the Interpretation of the Jazz Language. This book was produced by William Paterson University, and part of the proceeds of the sales will go to support the Clark Terry Archive on that campus.