Recordings
Clark Terry & "Just Friends"
at The University of New Hampshire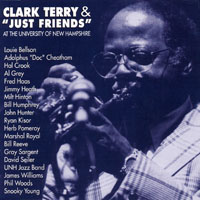 Just An Old Manuscript
Sweethearts On Parade
Salt Peanuts
Michelle
Finger Filibuster
Just Friends
Point Of Departure
Corner Pocket
Clark is featured with (collective personnel):
Jimmy Heath, Fred Haas - tenor sax.;
Hal Crook, Al Grey - trombone;
James Williams - piano;
John Hunter, Milt Hinton - bass;
Bill Reeve, Louie Bellson - drums;
Gray Sargent - guitar;
Bill Humphrey, Phil Woods, Marshall Royal - alto sax.;
Herb Pomeroy - flugelhorn;
Ryan Kisor, 'Doc' Cheatham, Snooky Young - trumpet;
University of New Hampshire Jazz Band, Dave Seiler, director.